Earlier this month, the U.K.'s Conservative government launched a new commission on architecture called "Building Better, Building Beautiful." Announced by Secretary for Housing and Communities James Brokenshire (yes, his real name), the group is meant to draft guidelines to "tackle the challenge of poor quality design and [construction]" in real-estate projects so that they earn "popular consent." The idea is that if the outward look of new development is more to people's liking, they will be less inclined to turn NIMBY and oppose it.
The birth of yet another "quango," as such paper-pushing bodies are known in the U.K., might have gone unnoticed as the deadline for Brexit approaches. But one thing has provoked controversy: the appointment of conservative philosopher and author Sir Roger Scruton as the unpaid head of the commission.
Scruton is a well-known public intellectual in the U.K., who has written books on wine, music, and architecture as well as philosophy and makes regular appearances on the BBC. (He is also a favorite of the right-wing internet.) In the wake of the announcement, media outlets reported that he had previously called Islamophobia "a wholly imaginary enemy," date rape and sexual harassment made-up, Hungarian Jews "part of … the Soros Empire," and homosexuality "not normal"—the last in a 2007 article that argued against gay adoption. Labour members of Parliament then demanded that Prime Minister Teresa May remove him from his post. (She did not.)
Architects and architecture writers piled on with their own criticisms. One objected to the "narrow and predictable terms" in which Scruton, an arch-traditionalist, defines beauty. Another called the philosopher a "ludicrous curmudgeon."
But there are bigger problems with Scruton and this commission than his personal preference for Georgian and Victorian architecture, or even the offense caused by his comments. (Scruton maintains his remark on Hungarian Jews was taken out of context.)
First, Scruton's theory as to what caused the U.K.'s severe housing crisis is so off-base that any "solution" premised on it, far from alleviating the problem, will only make things worse. Second, his claim that people want traditional styles rests on questionable evidence. And third, his notion of architecture itself as a war between styles—of "tradition" and "Modernism" locked in battle, one right, the other wrong—is reductionist and outdated.
In a lecture delivered in London on November 14, Scruton lambasted Modernist architecture for degrading cities and explained what he believes is the root cause of the country's housing woes:
The sense that new developments violate the existing order, rather than embellishing it, is the primary cause of local resistance, and the Government is beginning to take this matter seriously, since it suggests the existence of a "democratic deficit" in the planning process. There is a demand among all citizens that new buildings should conform to a standard of beauty, but a serious confusion as to what that standard is or how it might be brought to bear on the massive projects that it is now necessary to undertake.

[Their] objections suggest that the housing question is not at root an economic, social or political question but an aesthetic one. [Emphasis mine.] And it is in this vein that I propose to address it.
Experts differ on the primary reason for the housing crisis, but the contributing factors are clear. Population growth, decades of inadequate new construction (including the demise of social-housing programs), the sell-off of existing public housing, and strict planning rules have caused a critical shortage of homes and soaring prices, especially in greater London and the southeast of England.
Local resistance to development, while frustratingly common, is a secondary factor, and the idea that this comes down to style is dubious anyway. It is naive to think people will applaud a plan for new houses nearby if they have symmetrically placed windows or nice corbeling. The fears of British NIMBYs seem pretty consistent with those of their counterparts across the Atlantic: more traffic on local roads, more kids crowding local schools, possibly disreputable "newcomers," and the blocking of views.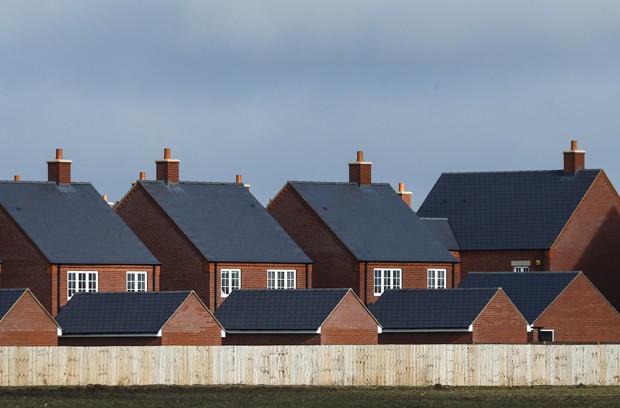 Unfortunately, Scruton's theory is not his alone, but shared by members of the U.K. government. At a public event on November 19, Housing Minister Kit Malhouse said "acceptability" was key to the government achieving its goal of building more housing: "If it fits in, resistance starts to reduce." The more the government treats the housing crisis as a matter of aesthetics, the further behind it will fall on developing real strategies to fix it.
It may be true that many Britons dislike the new buildings in their area. But the case made by Scruton and a London think tank, Policy Exchange, that the public strongly prefers traditional architecture is shaky even on their own evidence.
The "Building Better" commission grew out of a report that Scruton and Policy Exchange released earlier this year. The report includes the results of public polling on architectural taste, and these are ambiguous. Asked which style of housing they'd like to see in the future, about half of respondents answered "traditional terraces on tree-lined streets," but "housing developments or estates in a modern style" came second. Asked which features they'd include in a new home, many respondents said thick walls, fewer but larger rooms, feature windows, and high ceilings—none of which connotes traditional versus modern design. Only a small percentage said "symmetrical shape," "lots of corners, nooks and crannies," or "pillars at the entrance." (And this is despite the leading phrasing of some of the survey questions.)
Improving the quality of new buildings is a laudable goal for the British government (and one it has pursued before). But equating quality with style is a form of misdirection. What people overwhelmingly dislike about many new buildings is the sense that little effort has gone into their design and construction, as expressed in any style. As the report states, "In focus groups … the words soulless, alienating, identikit, chocolate box, noddy houses and ugly, were all used by people to describe their feelings about new development." A few of those terms refer to faux-traditional tract housing rather than progressive architecture.
Given that his academic specialty is aesthetics, Scruton really ought to look around more. The architectural culture he hopes to rein in is currently besotted with … tradition, of all things. The last several years have seen a resurgence of interest in the materials and visual language of the past. Glass is tired; brick, stone, copper, and terra cotta are wired. Color and pattern are back. Arches are suddenly everywhere. This is partly a revival of Postmodernism a generation after that movement's heyday. In London, it's also a response to housing-design guidelines issued by then-Mayor Boris Johnson back in 2009.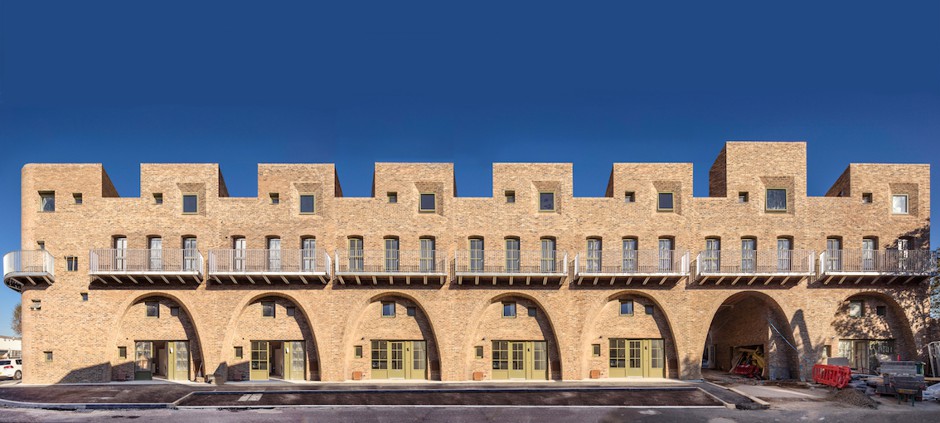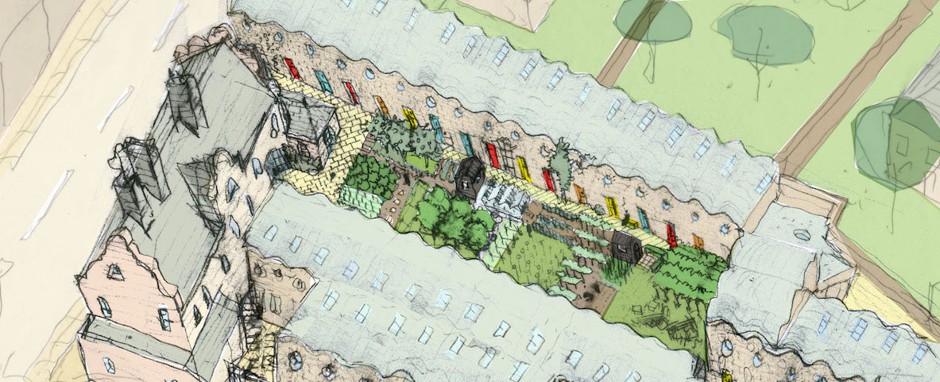 The architect charming London critics at the moment is Peter Barber, who primarily designs social housing. Barber remixes traditional types like medieval almshouses and Victorian back-to-back houses in inventive ways. His buildings sport crenellations, brightly colored front doors, and bull's-eye windows. Barber is a "Modernist" if you define that as not earnestly imitating historical styles, but his work bears little resemblance to that of Lord Norman Foster or Thom Mayne, whom Scruton took aim at in his recent lecture. Contemporary architecture is a much broader church than the Scrutonians give it credit for.
Scruton told the design publication Dezeen that as head of the new commission, "I want to give the public the opportunity to have the kind of architecture they would vote for, not the kind that is imposed on them by the disciples of Le Corbusier and Mies." But no one is trying to build Le Corbusier's Ville Radieuse in 2018! What Scruton seems not to realize is that "Modernist" architects also look to earlier figures such as Nicholas Hawksmoor and Louis Sullivan for inspiration. Besides, the public actually likes some of the glass towers that Scruton accuses of "trashing" the skyline.
On his website, Scruton promises the commission will not be an "aesthetic dictatorship": "[M]y own aesthetic stance will be only one input among many, to the exploration of design quality in all its aspects." Let's hope so. The architectural style wars refers to a time in the 1980s when traditionalists and Modernists ("trads" and "mods") split into camps and fruitlessly tangled over which style was best. Reigniting those wars at a time when the public is mostly agnostic as to style, and the architectural profession is thankfully moving on, would be worse than pointless. The real fight must be for high-quality, affordable housing for the millions of people who need it.