Joana Tavares was walking home from the post office when she slipped on the sidewalk just outside her Lisbon building and fell. It happened more than six years ago, but Tavares still can't shake the memory of the loud crack that rang out as she hit the ground.
It was the sound of her tibia shattering—an injury that would require an emergency operation to patch the bone together with a 8-inch-long steel plate, held in place by a dozen screws. After the accident, Tavares, a graphic designer then in her late 20s, was put on strict bed rest for six months.
Such injuries are alarmingly commonplace in Portugal's hilly capital, which is known for its graceful old buildings covered with eye-popping tiles and intricate, mosaic-inlaid sidewalks, known as Portuguese pavement (calçada portuguesa). Made out of small cubes of limestone—worn in patches as slick as ice—the sidewalks are at once a clear safety hazard and also a source of immense pride for Lisboetas.
In a city without an iconic monument like Paris's Eiffel Tower or Rome's Colosseum, Portuguese pavement has become Lisbon's calling card. Its graphic black-and-white patterns are printed on souvenir mugs, canvas bags and T-shirts. City Council has even gone so far as to propose the sidewalks be added to UNESCO's Intangible Cultural Heritage list, alongside Portugal's melancholic national music, fado.
"Yes, I did end up with a metal plate in my leg because of the calçada," said Tavares, now age 35. "But that doesn't mean that I hate it. Despite what I went through, I really see it as such an important part of what it means to be Portuguese."
Portuguese pavement is excellent for subterranean aquifers because they allow rainwater to seep through the junctures between the stones, helping prevent flooding. But their maintenance is nothing short of Sisyphean. No sooner have crews of specialized workers, known as calceteiros, finished the arduous task of breaking limestone into bits of the proper shape, laying them out like puzzle pieces and hammering them into place with what looks like an oversized wooden pestle, do the stones start popping out. A single missing stone can trigger a snowball effect, causing others to fall out and leaving lurking holes.
Rainfall makes the situation even dicier. A 2011 survey of elderly Lisbon residents put the sidewalks at the top of their list of things they most fear. They're also a daily crucible for disabled people, and  those with strollers or suitcases.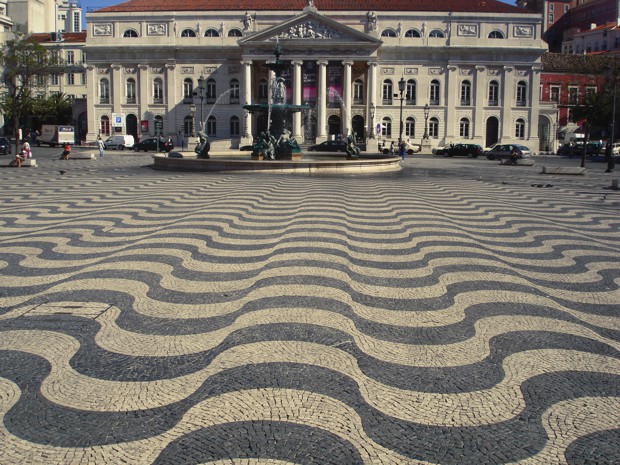 With millions of visitors descending on this city of 500,000 inhabitants each year, City Hall has opted to replace a few stretches of Portuguese pavement with concrete—a seemingly sensible decision that has sparked outrage.
Jorge Bonito, who heads the municipal public space inspection unit, acknowledged that striking the right balance between cultural and practical concerns has proven tricky. "For many Lisboetas, their feelings about Portuguese pavement basically boil down to something like what a famous historian once said about them," said Bonito, "'From the waist up, I want City Hall to preserve every last centimeter, but from the waist down, I wish they would just put down concrete so I don't fall.'"
Local lore has it the mosaic sidewalks emerged in the end of a 15th century as a way of disguising rhinoceros droppings at a royal birthday bash. King Manuel I, the monarch who presided over the start of Portugal's vertiginous colonial expansion, was to mark his birthday by parading through the streets of Lisbon with Ganga, a rhinoceros gifted to him by the governor of Portugal's Indian enclave, Goa. And because a giant steaming rhinoceros patty would sully the regal occasion, organizers are said to have laid down an ornate mosaic of black and white stones along the parade route.
Thus, Portuguese pavement was born, although it wouldn't become widespread in Lisbon until the mid-19th Century, when Lisbon was recovering from the devastating 1755 earthquake that razed most of the city. In 1842, the administrator in charge of the Castelo São Jorge, a sprawling hilltop fortress built by the Moors, ordered prisoners under his command to put in a mosaic footpath in an eye-catching zigzag pattern. Word of this weird and wonderful path spread, and soon it became something of a proto tourist destination, attracting visitors from across the city.
The administrator was commissioned to design grander mosaics in other parts of the city, and before long the style spread, first covering nearly all the sidewalks in Lisbon, and then those in other Portuguese cities. Fever for Portuguese pavement would later spread to the nation's colonies in Asia, Africa and South America. The iconic wave pattern first laid down on Lisbon's Rossio Square in 1848 also graces sidewalks in Macau, Maputo, and Manaus. But the squiggly, vertigo-inducing pattern has become synonymous with Rio de Janeiro after the design was laid down on the 2.5-kilometer-long stretch flanking the golden sands of Copacabana Beach in 1900.
Currently, Lisbon's official strategy is to maintain the mosaic sidewalks within the historic city center, while at the same time implementing solutions aimed at making them safer and more pedestrian friendly. Such fixes include swapping out some of the slick white limestone for gray granite bits, which have much more traction, and, on sidewalks that are wide enough, putting in a strip of concrete.
Improving maintenance is also a key part of City Hall's strategy, although it's an uphill battle. Once numbering in the hundreds, the team of specialized calceteiros has dwindled to about 20, with nearly all its members either nearing retirement age or have long surpassed it. The city even opened a vocational school to help infuse the team with new blood, but between the backbreaking nature of the work itself, chronically low wages—a novice calceteiro earns under 600 euros a month—and a longstanding hiring freeze imposed during Portugal's biting economic crisis, recruitment has proven an uphill battle. What will happen to the sidewalks once these veteran workers are gone remains an open question.
Still, Lisbon's recent emergence as a top tourist destination has turned the remaining calceteiros into something of a tourist attraction, mobbed throughout their workdays by groups of tourists and barraged with photo requests. "It's a very hard job. They're outside under the elements all day long, and all that squatting down ruins their knees and backs," said Paulo Almeida, who heads the crew that's responsible for maintaining the city's mosaic sidewalks. "So it's really nice to see them being treated like rock stars."
After a fall last year that left him with on crutches for a month, Lisbon-born novelist and journalist Hugo Gonçalves said he had "really mixed feelings about the calçada."
"On the one hand of course they're obviously extremely dangerous," said Gonçalves, 42, who badly sprained his ankle after stepping in a bald patch in the sidewalk while taking his dog for an early morning walk. "But on the other, they're as essential to Lisbon as the cries of the seagulls or the smell of grilled sardines."