It was past 9 p.m. last night when the Associated Press called Florida's Democratic primary for Andrew Gillum, the first-term mayor of Tallahassee. Gillum, who just turned 39, became his party's nominee for governor in dramatic fashion, scoring a narrow victory over four other candidates to face Republican Ron DeSantis in the general election.
This was not supposed to happen. For months, it seemed that only Gillum himself thought he had any shot at all, but his relentless optimism animated a campaign staff comprised mostly of young volunteers. Progressive activists saw in him the first real opportunity for a new generation to take the reins of power for themselves, while the Democratic establishment saw a chance not only to reclaim a state that had traditionally been theirs until 1998, but to deal a major symbolic blow to President Trump, whose endorsement of DeSantis proved decisive.
Geography and logistics were crucial to his win. Gillum's competitors—Philip Levine, Chris King, and Jeff Greene—were mostly clustered downstate. Former congresswoman and frontrunner Gwen Graham (whose father is a former governor and U.S. senator) held the Panhandle as her stronghold. So Gillum centered his base in Northeast Florida, around Duval County, where he won 52 percent of the vote.
While the other contenders talked about their backgrounds in business and their legislative records, Gillum traded on 15 years of retail politics, beginning with his election to Tallahassee's city commission at age 23. As a city commissioner, his support of the Digital Harmony Project put over 200 computers into the homes of middle schoolers. In 2014, he took 76 percent of the vote to win a four-way race for mayor.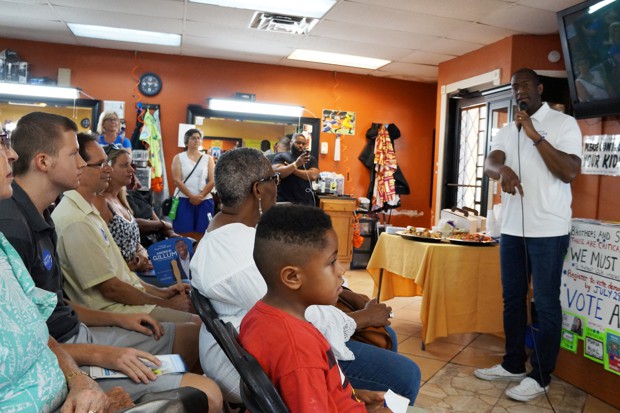 On the campaign trail, Gillum framed his mayoral term as a preview of what he'd do as governor. As mayor, he spent more than two years in legal battles with pro-gun groups, which sued Tallahassee to rescind local laws banning guns in city parks. (Gillum prevailed.) He successfully pushed to "ban the box" in Tallahassee—removing criminal records from consideration for job applicants—and worked to increase communication between police and inner-city communities. Gillum puts himself in the progressive (rather than centrist) Democratic tradition; while he was supported by Democratic Socialists of America members, he does not identify as a socialist.
He trailed in fundraising throughout the primary, with the other four candidates spending a combined $97 million. Gillum, who spent about $7 million, often reminded voters that he was the only non-millionaire in the race, trading on word-of-mouth support and an aggressive social-media operation. Late in the race, after receiving support from donors like George Soros and Tom Steyer, he poured that cash into a fusillade of TV ads, as well as a tour bus that allowed him to maximize his minutes in one of the most punishing itineraries ever seen in state politics.
In the end, the polls trended much as the campaign itself had, with Gillum coming up from a steep early deficit to force parity, before surging past Graham in the final moments. He ultimately won by a margin of 34 to 31 percent—a mere 44,682 votes out of 1.5 million cast.
November 6 could potentially see the first black governors ever elected in both Florida and Georgia (where Stacey Abrams won the Democratic nomination on May 22). Despite holding solid leads in the Florida legislature and most municipalities, Republicans won the state by a mere 1 percent in 2014, so a Democrat with momentum is cause for alarm.
The party's response to Gillum's win suggests as much: Opponent DeSantis accused Gillum of wanting to "turn Florida into Venezuela," and President Trump quickly went on the offensive on Twitter, calling Gillum "a failed Socialist mayor." That in turn prompted a swift rejoinder from the new nominee.
What our state and country needs is decency, hope, and leadership. If you agree, join us at https://t.co/fm0ODFFGWU. Also, @ me next time, @realDonaldTrump. https://t.co/59dQy8RLsm

— Andrew Gillum (@AndrewGillum) August 29, 2018